---
When: April 12, 2019, 9:00-12:00
Where: Erikson Institute, Chicago, I
llinois (Room 305)
Presenter: Tina Dorrow, Lili Gray
Cost: $25
Registration: Coming Soon!
---
Past Workshops
"This is a safe place": Using Relationship Based Play Therapy in CPP to Increase Safety
When: February 1, 2019, 9:00-12:00 (yes we will still be holding this event! stay warm!)
Where: Erikson Institute, Chicago, Illinois (room 201)
Presenter: Dr. Nicole A. Tefera

Description:
This workshop will focus on the use of dyadic play therapy as a treatment modality used to help the child and parent to learn to understand and verbalize thoughts and feelings associated to the traumatic experiences. For younger preverbal children, dyadic play therapy promotes the expression of feelings though symbolic play. Encouraging play, reciprocity, and shared affect between the parent and the child is an important part of the process of CPP. In this workshop, the use of play therapy will be explored as a means to create a sense of physical and psychological safety. In this workshop, CPP case examples will be applied to enhance practice.
Presenter: Dr. Nicole A. Tefera, is a licensed clinical psychologist who works both in private practices as the owner of Carmichael Consulting & Behavioral Health Services and at Advocate Children's Hospital's Behavioral Health Services. Dr. Tefera is a national CPP trainer. She treats a wide variety of problems including abuse and trauma, anxiety disorders, depression, behavioral problems, adjustment to chronic illnesses, medical traumatic stress, stress-related illness, grief and loss and relational concerns. In her private practice work, Dr. Tefera provides consultation and reflective supervision to care providers and treatment to individuals of any age.   Dr. Tefera is also an Affiliate Member of the National Child Traumatic Stress Network
---
Sharing Hope and Naming Trauma:
An Approach to Engaging Parents through Child Parent Psychotherapy Feedback and Introducing the Child to Treatment
When: November 2, 2018
Where: Erikson Institute, Chicago, Illinois
Presenter: Carole Graybill, AM, LCSW.
This workshop supports fuller family engagement in the transitional space of assessment and core intervention by exploring the utilization of the CPP Triangle of Explanation and Introducing the Child to CPP. We will explore the ways we can deepen our alliance with parents while naming the impact of trauma and collaboratively exploring the benefits of participation in child and parent psychotherapy. In the course of our time together, we will apply CPP case examples to enhance practice.
Presenter: Carole Graybill, AM, LCSW. Ms. Graybill's specialization in child trauma extends over 25 years. Her clinical identity is rooted in early experiences of working in domestic violence and the child welfare system. Ms. Graybill is a trauma-informed therapist and a clinical and reflective consultant to a variety of practitioners across diverse settings. An additional specialization is embedding trauma-informed practice in organizations. Ms. Graybill is recognized for offering innovative training for adult learners. She is an endorsed National CPP trainer since 2011 and currently conducts Implementation Level CPP training in multiple states. Ms. Graybill is most inspired by the journey of healing that CPP offers families.
---
The Ripple Effect:
An Integrative Framework for Enhancing Trauma-Informed Practice Across Systems
When: June 1, 2018, 8:30-4:30
Where: Erikson Institute, Chicago, Illinois
Presenter: Chandra Ghosh Ippen
---
Description:
This workshop presents an integrative framework for understanding and communicating across systems about how trauma can affect a child, a family, and a system. The framework was developed by Chandra Ghosh Ippen, Christopher Layne, and Bob Pynoos of the National Child Traumatic Stress Network (NCTSN) and is adapted from core trauma concepts identified and ratified by the NCTSN Core Curriculum on Childhood Trauma Task Force.  The Ripple Effect translates complex trauma concepts using metaphor, visual models, common language, and rich case example and shows: 1) the domains of functioning affected by trauma; 2) the mechanisms through which trauma affects development, and 3) intervention pathways. This workshop offers foundational trauma knowledge for clinicians learning evidence-based trauma treatments and highlights ways to share trauma theory with family members and across systems  (e.g. schools, child welfare workers, mental health, medical practitioners, police) as we work jointly to lessen the impact of trauma exposure.
Presenter: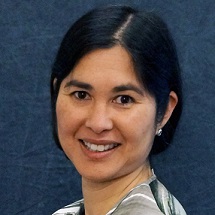 Chandra Ghosh Ippen is the Associate Director of the Child Trauma Research Program at the University of California, San Francisco and the Director of Dissemination for Child-Parent Psychotherapy. She specializes in working with young children who have experienced trauma and has co-authored over 20 publications on trauma and diversity-informed practice, including the manual for Child-Parent Psychotherapy, the children's story "Once I Was Very Very Scared," and the Trinka and Sam story series. She has over 14 years of experience conducting trainings nationally and internationally in diversity-informed practice and Child-Parent Psychotherapy.
---
New workshops will be announced here as they are scheduled. To stay in touch, join our newsletter.